Experiential technology | innovations in attractions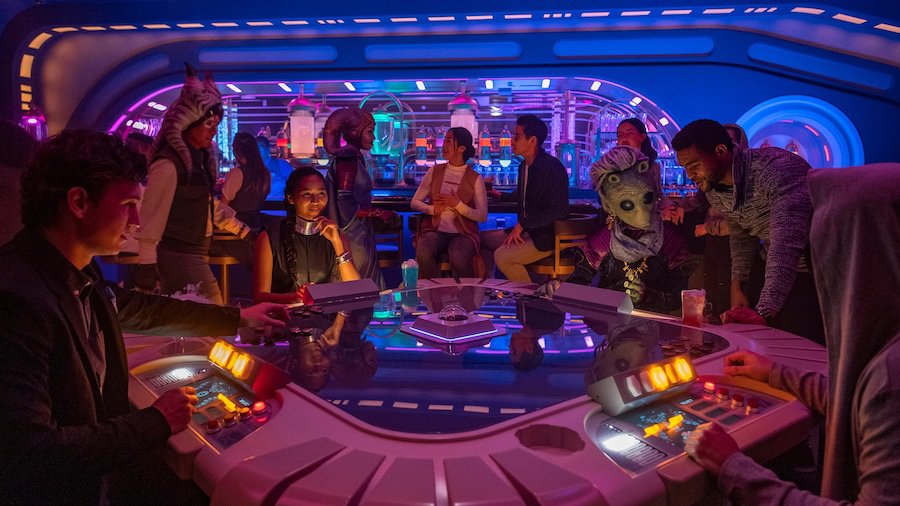 The Festival of Innovation was hosted by blooloop in December 2023. This three-day event brought attractions professionals together online for a deep dive into the latest industry trends. Many sessions looked at innovations in attractions tech, including a discussion on experiential technology.
This saw Asa Kalama, VP executive – creative & interactive experiences at Walt Disney Imagineering and Yiannis Cabolis, director of technology innovation at Electrosonic, join Martin Howe of Dapper Labs for an exploration of the latest developments at Disney and beyond.
The panel looked at the current trends and new innovations in experiential technology for visitor attractions. They also shared their thoughts on where the future could take us. The session closed with the announcement of the winners of the blooloop Innovation Awards Experiential Technology category.
Meet the panellists
Asa Kalama started his career as an intern with Walt Disney Imagineering, progressing through the company until he moved into his current role in 2021. He was part of the team behind Star Wars: Galaxy's Edge at Disneyland in California and Hollywood Studios in Florida. Kalama was the executive creative director for the Millennium Falcon: Smugglers Run attraction.
Yiannis Cabolis has almost three decades of experience in the industry. He uses this knowledge to solve challenges, deliver solutions and apply technology in unique ways.
In his role at Electrosonic, he is responsible for connecting the firm's various divisions around technical solutions. He monitors developing technologies, maintains awareness of best practices, and drives research and development. Cabolis also strengthens industry and vendor relationships to ensure that clients benefit from the firm's optimum solutions.
Martin Howe has over 35 years of experience introducing and delivering new technologies across a range of demanding applications around the world. He has built Teq4 into a leading creative design and engineering firm, specialising in the design and integration of unique immersive and interactive experiences. He was also instrumental in the development of Chaperone. This is a new concept which connects guests to experiences in a highly personalised way.
What is experiential technology?
Howe kicked off the session with a broad definition, explaining what we mean when we use the term experiential technology:
"Experiential technologies are technologies that can, with the right creativity and content, enhance in some way the visitor experience."
Essentially, it's a way of harnessing the latest technology trends in order to elevate the guest experience and make their visit more memorable. One example could be AR, which adds another layer to what we see. Another would be haptic technology, which can help us to feel more immersed in an experience.
To begin the conversation, Howe talked about the Millennium Falcon: Smugglers Run attraction at Disney's Star Wars: Galaxy's Edge lands. This uses a mix of real-time content delivery and live interaction to deliver a unique experience for every guest. Each visitor gets a slightly different experience and story based on their interactions.
Real-time interaction and personalisation
Looking at the extent to which real-time live interaction and personalisation can enhance the visitor experience, Kalama said:
"For me, at its core, it's about helping our audiences and our guests feel seen. I think there's been a little bit of an evolution of what we mean when we say personalisation. Once upon a time, personalisation meant taking psychographic or demographic information about a person and expressing it in an attraction. For instance, what's your favourite colour? What's your name? How can we reflect that back to you?
"That was the beginning of allowing people to participate in the experience. It meant that guests could get the semblance that the experience, the system, knew that they were there."
"More recently, the definition of personalisation has evolved and grown. It now incorporates not only literally who I am in the real world but, as we make stories and experiences that become more participatory, making me actually part of the story.
"Personalisation means who do you want to be in this story world? How do you want to be seen? Do you want to be a character? Do you want to be yourself? How much do you want to participate? In what way do you want to participate? And all of that implies an incredible amount of flexibility in the design of whatever that experience ultimately is.
"Inherently, it can't be a linear series of triggers. Rather, it must be something that is necessarily responsive and enabling all of that."
Technology enhances the experience
Much of this evolution, Kalama pointed out, has been enabled by new technology. This brings the ability to understand where a guest is in an experience and what things they are interacting with.
Bringing it back to the topic of real-time media, as used in Smugglers Run, he added that technology has given attraction designers the ability to change dynamically what they are presenting to the guest based on how they are interacting:
"Our ability to unlock deeper and more meaningful relationships with entertainment experiences is entirely enabled by technology."
Howe questioned the motivation behind this desire of visitors to be seen:
"Is it that they want to feel that they're being seen and understood by the experience? Or do they want to be seen by other people in the experience, or share those experiences afterwards outside?"
Kalama said:
"I think with the advent of social media platforms, our relationship to the world has certainly changed pretty meaningfully, in terms of what our expectations are of how we relate to the world. There are all these incredible opportunities for us in our daily lives to express ourselves and impact not only the immediate circle of people that we know, but also broader communities beyond that.
"So, when guests come to an entertainment experience, they carry with them that same expectation that they are meaningful in the world. They expect that their entertainment experiences should be a reflection of that, they should value them for who they are."
Experiential technology & the importance of proper integration
Experiential technology, when brought into an attraction well, should not be visible. It should be able to enhance the guest experience without becoming a gimmick, or a distraction. Success, said Cabolis, often depends on how well the different systems work in unison:
"It's a sort of an art form. What we have learned, through the demands that we have from the experiential architects and content creators when it comes to bringing technologies into spaces to enable experiential storytelling, is that art of technology platform integration and then responding to that need for personalisation."
"At the very early stage, where we start working with some potential 3D models, we need to properly deploy those technologies between the individuals participating in the experience and the hardware delivering parts of the storytelling. All that has to be done in a way that is completely transparent.
"But the end result is that now we can have real-time responses in the space. Not only as an IO trigger but also in terms of personalisation, environmental controls and inclusion. We have a way to communicate with specific guests, responding to the way they want to participate.
"There is a lot of data sharing that has to take place. And, to go further for a total experience, we also need to tie in all the auxiliary spaces. For example, retail, food and beverage and other areas where people are gathering. We can then tie all that to the personalisation."
The guest journey evolves
Tying in those secondary experiences, like retail, can help to create more of a complete guest journey, where visitors are engaged with the attraction before, during and after. Talking about the user journey and how this might look in the attraction of the future, Kalama said that this notion of a complete guest journey is much easier to accomplish today than it would have been even ten years ago, thanks to new experiential technologies.
He added that guest expectations have changed along with the technology:
"The more reactive and engaging an experience ie, the more capability the audience starts to confer on the system. Along with that comes this expectation of 'I went through this amazing walkthrough experience. I encountered all these incredible characters and we went on this amazing adventure.' For me, that becomes a very real memory. It becomes a very personal experience because it happened only to me."
"So, I start to expect that experience of that system. When I come back a week later, or a year later or three years later, I expect it to remember me and remember those exploits. Not only is that a benefit to the audience, because it further reinforces the idea that this fictionalised adventure that I had is grounded in some semblance of reality because it obeys the same rules that the rest of the world does, but it also is an exciting creative and storytelling tool as well."
Experiential technology enables a persistent relationship
New experiential technology has allowed attraction designers to start to scratch the surface in terms of what it means to enable these persistent relationships, for example, between guests and characters, guests and environments, and guests and stories.
"That is super exciting," said Kalama.
"It becomes a very different endeavour to design an entertainment experience that is meant to be interacted with once and only once and is the same every single time, versus one that picks up right where it left off from the last time. There's all of this prologue work that you've already done that you can then leverage in a subsequent interaction. I think that is incredibly exciting and certainly, it's something that we've always known has been magical."
"A small example of this is, I'm sure we've all heard stories of a cast member on Main Street, for instance, having an interaction with a guest, as maybe Mary Poppins, and then many years later running into Mary Poppins again. And she says, 'Oh, my, how you've grown and how have you been?'
"All of that feels so incredibly powerful and meaningful."
Working in partnership to enable new innovations
Building partnerships with manufacturers helps designers to push the envelope when it comes to exploring the potential of new experiential technologies, says Cabolis:
"I like to refer to it the same way as chefs. In any kitchen, you will find the same ingredients. However, each result is different because of the chef's abilities and how they use those ingredients. I use that analogy because that's exactly what happens.
"We have manufacturers that produce wonderful products. But they need that spark that comes from the ideation sessions that we have with creative groups. They need that discussion about how can we reach that goal of the experience. Then we're able to bring better results."
"One of the fun creative challenges we now face is if you have an inherently dynamic experience that changes and evolves and is unique for every individual and maybe persists over time, the process of testing such an experience becomes exponentially more complicated," added Kalama.
"Making sure that all of that incredibly complicated technology handles every conceivable edge case is an exciting challenge.
"There's also a related piece of that. Take the video game world, where many games have moved towards a live service model, where the stories continue to grow and evolve. And there's a team that manages the story and continues to publish new content, etc. I think we're rapidly approaching a place in the physical experience world as well, where that becomes more and more important,
"It can't be overstated just how much work is required to maintain all of that. Not only continuing to push out new content but to be pushing out new features, understanding and discovering a completely new scenario that nobody had ever contemplated during testing."
Experiential technology and the metaverse
Moving on to talk about the metaverse, Kalama put Disney's plans in the space into context:
"The Walt Disney Company is about to celebrate its 100th year in operation, which is an absolutely incredible feat. And at the heart of it, I think what has allowed the company to sustain itself for so long is this beautiful, symbiosis between storytelling as being the heart of absolutely everything that we do and an open and eager willingness to embrace the latest and greatest and technical innovation in the service of telling stories and brand new ways."
"And so I think, as we have done for the last 100 years, we will continue to try to take advantage of new platforms and new technologies to tell stories that people want to hear, in the places where they are. We will continue to, over the next hundred years, allow guests to discover their favourite characters and favourite stories in new and interesting ways."
For Howe, that distinction of 'where they are' is an important one:
"If you can continue to engage with your guests and do that persistent brand engagement over many days, weeks, hours and years, then you are going to be doing it wherever they are. That includes things like digital twins and augmented overlays onto the real world. All of those things will play a part in that in ways that we probably haven't imagined properly yet."
Wearable technology
One of the key trends in experiential technology in recent years has been wearable technology. This will become more and more essential, feels Cabolis:
"The reason for this is that it's personalised, but it also provides a level of inclusivity that non-wearable technology does not. It can be fully tailored and fixed for an individual. That takes away sometimes the unknown of the human-to-machine and machine-to-human interaction, which is going to increase exponentially when we start bringing into play extended reality, mixed reality and the metaverse."
For Kalama, wearable tech is also an exciting creative tool:
"Wearables take many forms. But even if we just talk about things that I wear on my face, it starts to unlock a whole new domain of storytelling for us.
"We love to build things physically, but there are certain things that defy the laws of physics. Technology, for instance, a set of wearable glasses, allows us to do so many of the things that we imagine. It means we can bring them to life for our guests in a really powerful way."
Implants: the next big experiential technology trend?
Looking ahead to the future of experiential technology, the panellists also looked at the potential of implants.
"I don't think that we are necessarily there yet," said Cabolis. "But it doesn't mean that we're not going to get there. The beauty of technology is that it does not increase in specific increments; it's gradual."
Kalama added:
"I think it's really fascinating. Personally, for me, I think where that idea is most interesting is in enhancing the physical world around you.
"Taken to its extreme, you could imagine implanted memories of amazing experiences that you never really had or contemporaneous projected events into your brain. But I think the idea of unlocking different senses or activating things in ways that we couldn't before, and blending that with the physical world, is really interesting."
Haptics
Another topic that the panel explored was the rise of haptics in attractions tech.
"The tactility of experience is such an important part of all of it," said Kalama. "I think the more we can activate that sense, the more tangible some of these experiences can ultimately be.
"Certainly, as it relates to screen-based experiences, I'm an old-school guy and I love the feel of a mechanical button or switch. But if I can't have it, then still giving the user a sense of meaningful feedback feels important."
"Then, there are all sorts of fun novel implementations of haptics that aren't purely about touch-based interaction with displays or information. Things like wearable haptic suits as a mechanism for providing feedback and a virtual experience. I think there's a lot more fun and exploration yet to be had in that space."
Future experiential technology
Howe finished by asking the panellists, if they had a magic wand, what kind of experiential technology would they like to bring forward or accelerate.
Cabolis, again, talked about the potential of polysensory experiences:
"Being able to trigger more of the sensors in our amygdala would be the most important. I think evolution in the human-to-machine and machine-to-human interaction will require leaps in terms of the way we deliver or package this type of technology. But to me, I think that that will be the most important."
Kalama, meanwhile, said he was most looking forward to volumetric holograms. These are 3D, real-time, interactive holograms that can be seen from any angle, and that guests could have real interactions with.
"It's the thing that, in every whiteboard session, we're like, 'Oh, if only we could do that!'
See the Experiential Technology session here:
Watch the discussion here: